Last Updated on May 1, 2023
Our Boilers Explained
Conventional boilers explained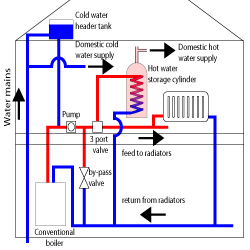 The conventional boilers are being slowly replaced by combi and system boilers where appropriate. If the cold water pressure is an issue it may be better to stay with this type of boiler.
The system is being fed by 2 header tanks in the loft. There is a pump that is used outside the boiler to pump water around the radiators ensuring the central heating system is working. The hot water is stored in a cylinder which supplies hot water when required.
In addition to this, these systems require hard-wired control systems.
The issues with this type of system are
More expensive to operate.
More components to go wrong.
Can suffer with low water pressure on taps close to the tank.
Combination boilers explained
Combination (Combi) boilers are generally considered to be the easiest and most cost-effective way to install a central heating system.
Combination boilers have no tanks or cylinders. Instead, they heat water for central heating and domestic hot water as required (a bit like a pay as you go mobile phone contract, they only start costing you when you make phone calls).
The central heating portion of a combi is on a pressurised closed loop system heated by the boiler as required. For domestic hot water, the mains supply is fed directly to the boiler. This means no hot tank to refill and a constant supply of hot water at mains pressure.
The issues with this type of system:
If your incoming cold-water pressure is too low they will not work correctly.
If the house has too many bathrooms and a high call for hot water at any one time.
If they don't work there is no backup hot water option.
Although combination boilers are not suitable for all households they are often the first choice as there are fewer things that can go wrong on central heating systems and are cheaper to run.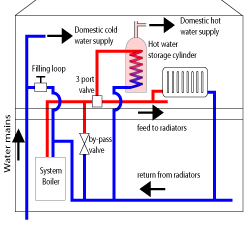 A system boiler still has a hot water tank but has done away with an exterior pump and header tank. The pump is an integral part of the boiler which also has an expansion vessel to replace the cold tanks. Other integral components include a system programmer and valves.
System boilers are far easier to install than conventional heating systems.
The main issue with this type of system
The boiler is costly to install as a new cylinder is required.
More components to go wrong.